I am a huge fan of silicone teethers for babies/toddlers. They are easy to bring along, easy to clean, safe to chew on, and perfect for soothing aching gums. I've got the privilege of partnering with Mama Bear's Baby Beads to review her silicone teething jewelry, and I can't wait to share my thoughts with you!
This post may contain affiliate links, which means if you make a purchase through my links, I may receive a small commission at no extra cost to you.
Silicone Teething Jewelry- the perfect accessory!
I really love silicone teething necklaces. I used one for my daughter and knew that when my son started teething, I wanted one for him, too! Though let's be honest- they're kind of for me, too. 😉 They're cute and useful and the perfect Mommying tool!
(psssst be sure to read all the way to the end for a special Mama Shark Coupon Code!)
Mama Bear's Baby Beads are Easy to Bring with You
One of the beautiful things about these pieces of jewelry is how easy they are to bring with you. The necklace can literally fit in the palm of my hand, so it goes easily into a diaper bag or even my pocket! And of course I can always throw it around my neck and BOOM I've got a toy wherever we go.
Mama Bear also sent me a teething bracelet, and I wear it all the time. It's really nice to be able to throw it on and then have a quick and easy toy for Turtle wherever I am- one less thing for me to remember to pack in the diaper bag!
Mama Bear's Baby Beads are Comfortable to Wear
Mama Bear's Baby Beads are so comfortable to wear. This is a big deal to me because I have a skin condition called dermographism, which causes itching and swelling whenever I touch anything remotely rough. This silicone jewelry, however, causes no problems!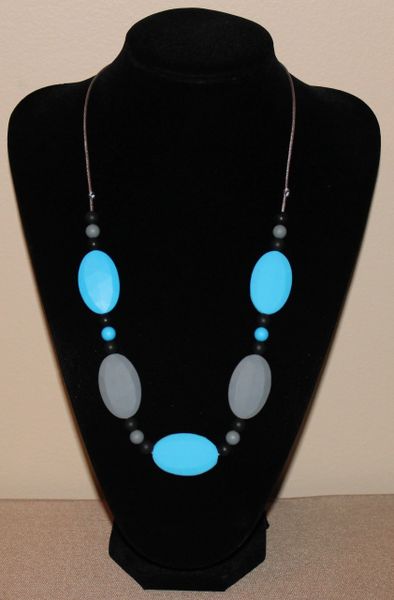 I also love that Mama Bear's necklaces have the beads only in the front. This is SO SMART because those soft beads are just grippy enough to grab your hair when baby is tugging on them.
I have another brand of silicone teething necklace that has the beads all the way around the neck, and I never wear it because it always pulls my neck hairs- ouch!
One of my favorite aspects of this wearable teething jewelry, though, has to be that it's attached to me! It makes it that much harder to lose, drop, or get gross- which every mom knows is a big plus!!!
In fact, the way I most commonly use the necklace is when I'm wearing Turtle on my back- I turn the necklace backward so he has something to chew on, but he can't drop it down into the wrap where he can't reach it and he can't throw it overboard and make me pick it up (or lose it)!
Mama Bear's Baby Beads are Beautifully Designed
Of course, I have to mention how lovely her designs are. There are so many options to choose from, and so many colors! I've pictured a few of my favorites below, but there are many more!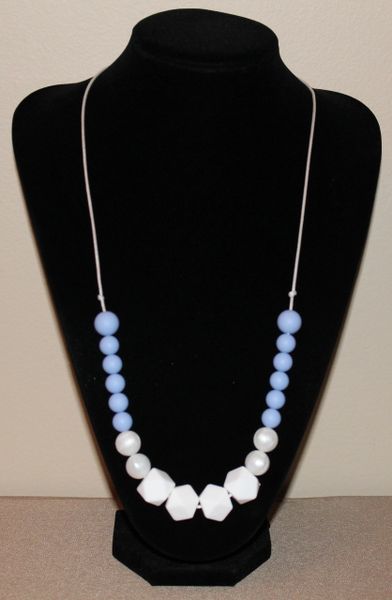 She also has adorable pacifier clips and stroller clips (many more than pictured!)…pretty sure Turtle needs the turtle one for Christmas!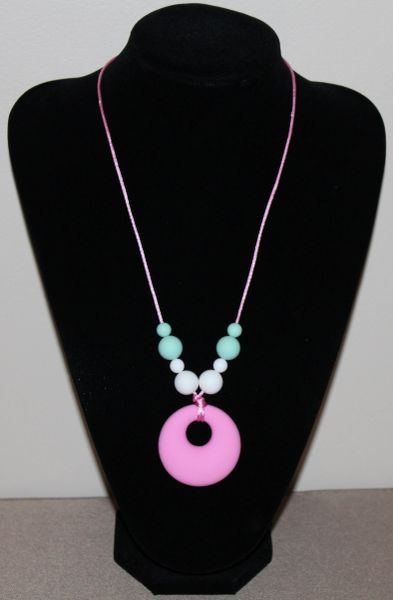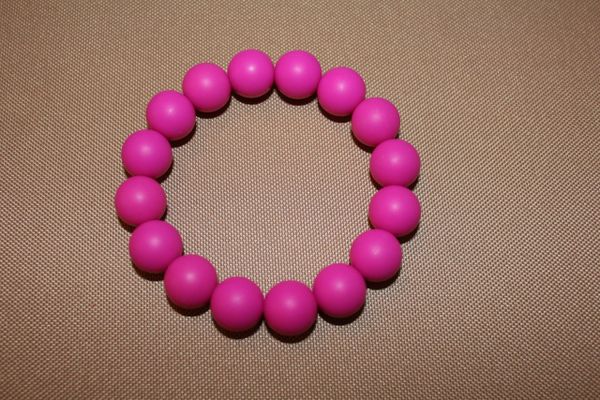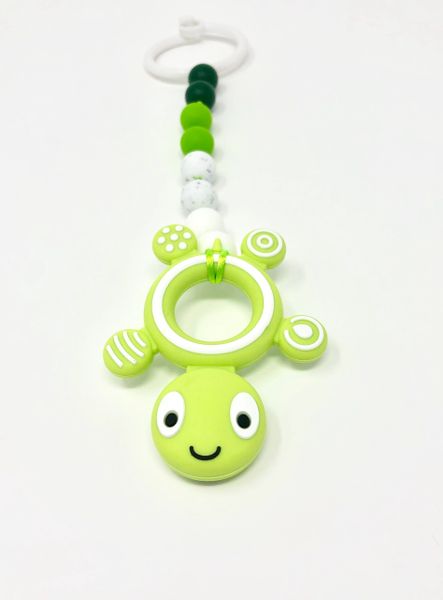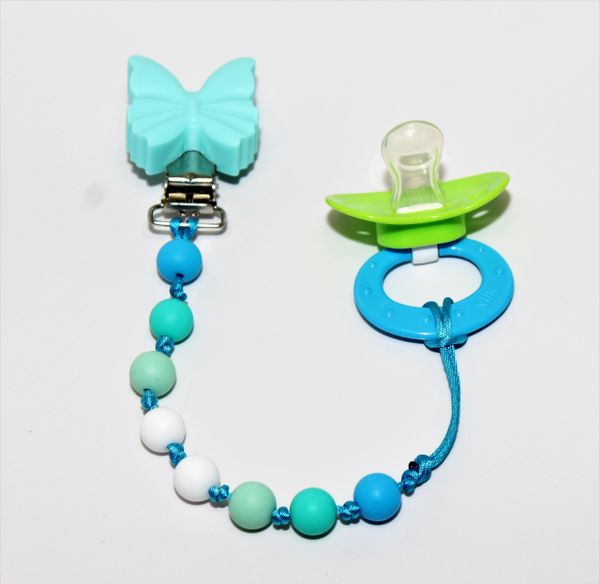 Silicone Teething Jewelry- perfect for teething comfort!
We've accumulated a fair amount of teethers over the years, but the silicone teethers continue to be the preferred gnawing piece of choice. They're especially great when you've got canines coming through!
Mama Bear's Baby Beads are Easy to Keep Clean
Especially when flu season comes around, I love that these are so easy to keep clean. The silicone is easy to wipe down or even wash with a bit of soap if needed!
Mama Bear's Baby Beads are Soft on Baby's Gums/Teeth
Turtle is in grab-everything-in-sight-and-try-to-eat-it mode (even while I was typing this I had to stop and swipe a piece of dirt out of his mouth). Not everything he finds to chew is easy on his little gums or safe for little teeth, so I love that I can give these teethers to him without worrying about any hard edges.
Mama Bear's Baby Beads are High Quality
The quality of Mama Bear's Baby Beads' silicone teething jewelry is top notch. It's sturdy, well-made, and ready to be pulled, thrown, and chewed on by your baby or toddler.
One final aspect I must mention- the breakaway clasp. The necklaces have an easy breakaway clasp so you can pull it off or untangle it easily- great safety feature (and also very convenient!).
Mama Bear's Baby Beads- the perfect choice for silicone teething jewelry!
Mama Bear's Baby Beads has given Mama Shark readers a special coupon code- for 15% off your purchase at her store! Use the code MAMASHARK15 at Checkout for 15% off your purchase! These make great stocking stuffers, baby shower gifts, and baby's first birthday gifts!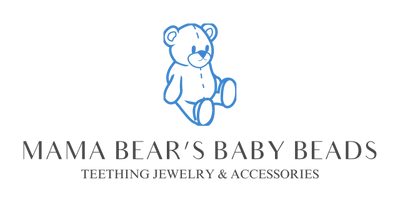 I hope you all enjoy your teething jewelry- send us some pictures of your adorable babies with Mama Bear's Baby Beads and we'll post them on our Facebook or Instagram pages!
Keep rocking it, Mama!
P.S. If you want some more great gift ideas, check out our Gift Ideas for Moms post!