The Basics of Babywearing on a Budget
It's no secret that I LOVE babywearing. I've worn both of my kids in many different carriers, and I truly don't know what I would do without babywearing. Babywearing has allowed me to comfortably and easily do everything from grocery shopping to cooking to strawberry picking with a baby/toddler in tow. But if you're new to babywearing, you might get some sticker shock when you look at the prices on some of the carrier options! So if you're trying to be frugal, how can you do babywearing on a budget?
To answer this question, I've teamed up with Alex Sparrow, a Certified Babywearing Consultant with The Well Carried Child! I hope you enjoy this collaborative post on how to babywear on a budget!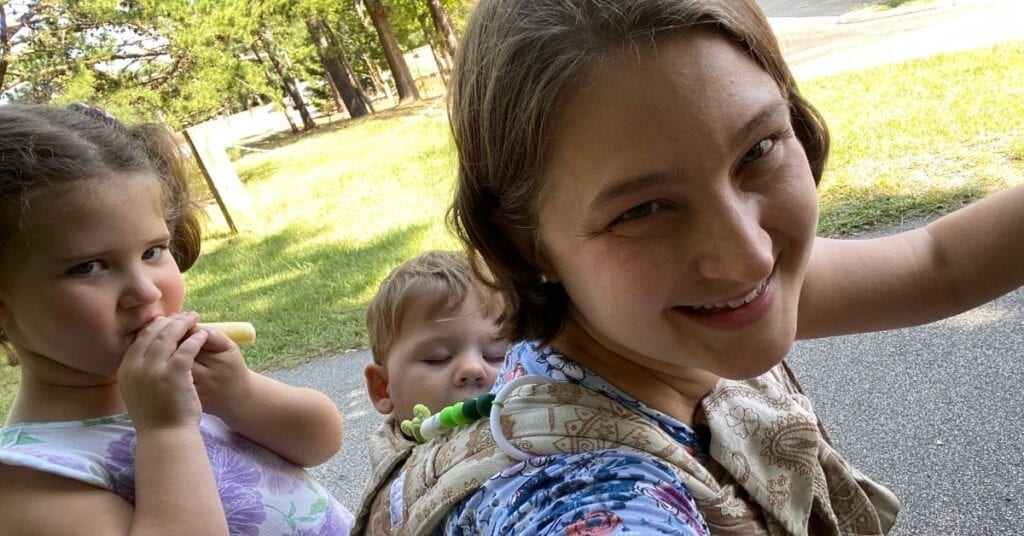 This post may contain affiliate links, which means if you make a purchase through my links, I may receive a small commission at no extra cost to you.

An Introduction to Babywearing on a Budget
Buying a carrier for babywearing is an investment- by purchasing a carrier, you're giving yourself the luxury of time, less stress, and of course alllllllll the snuggles (and the oxytocin that comes with them!) for you and for baby. But how do you find the right carrier for your needs and still stay within your budget?
If you've done any research at all into babywearing, you've no doubt seen Facebook posts from moms (or maybe you've posted it yourself!) asking which carrier is the best one- so let's just set the record straight right now- there is no such thing as a universally perfect carrier! There's a reason every mom who posts that question gets 20 different answers. 🙂
Each caregiver is going to have different needs, a different child they're babywearing, and a different budget- so what's best for one caregiver-child dyad is not the best choice for every caregiver-child dyad!
Thankfully, there are SO MANY different carrier options- even for babywearing on a budget! Which means you CAN find the perfect baby carrier for you and your baby. But how to decide which one is right for you? Here are some factors to consider in your quest for the perfect carrier to help you with babywearing on a budget!

If you'd like to learn more about the different types of carriers, enter your email below- we'll send you a babywearing cheat sheet + a video series by Alex of The Well-Carried Child about how to find your best baby carrier!
Purchasing a Baby Carrier on a Budget: Things to Consider
When I start out with a client at The Well-Carried Child, there are a few key questions I ask. These questions help you choose which carrier is best for you and your budget!
What is your budget?
Think about your babywearing budget in terms of cups of coffee. When your coffee is consumed, your cup doesn't magically refill. As much as I wish it did!
A baby carrier will not disappear after one trip with baby. You might use just that one carrier for several years, with multiple children (and you will be hands free to hold your coffee cup!). You may even find that by the time you are done using your carrier, it only cost you pennies a day or less.
That said, you may still only have a fixed amount to spend right now- we all know what that's like! So think through what your limit needs to be. Also, be sure and put your email in the box at the end of the post and we'll send you a FREE video series from The Well-Carried Child that includes how to find your best carrier under $50 and under $100!
Are you going to use this carrier with different size or age children?
Do you need your carrier to go from infant to toddler and beyond? Able to do both back and forth? Or just for one child at once particular age? (Keep reading to help you know!)
Are multiple caregivers going to be sharing the same carrier?
How easily does it need to adjust to fit different caregivers? A carrier that is comfortable for a petite mom is not going to fit a muscularly built dad in the same way. If the carrier needs to fit multiple people, it needs to be a type that will be comfortable for all caregivers who will use it.
Are you going to carry your child on your front? In a hip carry? On your back when they are older? Maybe all three?
Being able to wear your child in multiple positions can really come in handy! A back carry is especially great for giving you both hands free (plus being easier on your back), but front carries are easier as you are first learning and when baby is younger.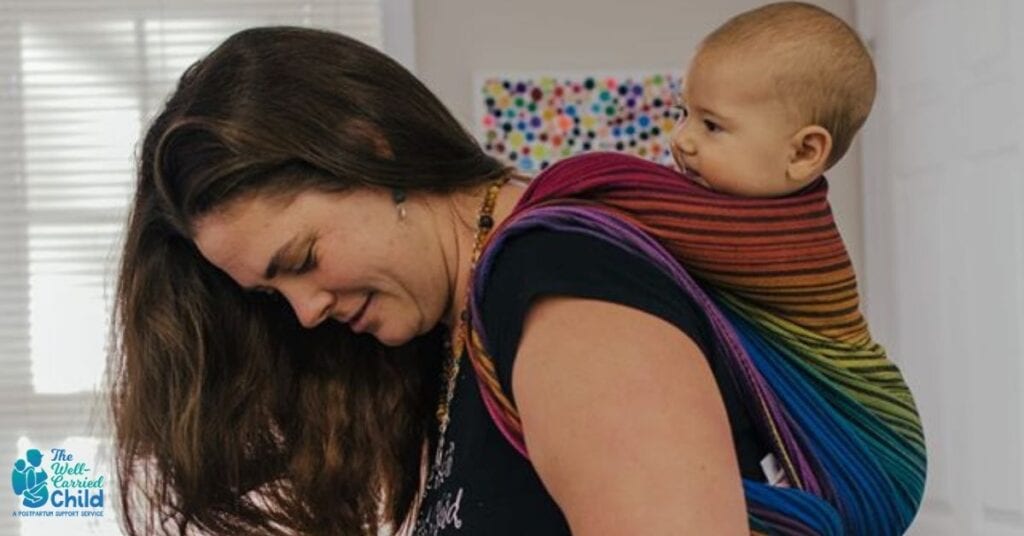 What Type of Carrier Do You NEED?
There are many different kinds of carriers (see below to get a cheat sheet to get you started!), but here's a basic overview:

Babywearing Infants
Many of the carriers designed primarily for infants (like a stretchy wrap), are going to be relatively less expensive. These carriers are designed for caregiver comfort- but only up until baby is a certain weight. In addition, they may only offer proper support for a front carry. Infant based carriers can be a wonderful option, but knowing their limits is important.
While infant-based carriers are cheaper, you'll quickly reach the end of their usefulness as your baby grows! So if your goal is just to wear when they're small- these can be a great way to go! But if your hope is wearing for many more months, you may want to consider investing in a longer term option.
Babywearing for Older/Bigger Babies
Older/bigger babies can do great in a lot of different carriers! Ring slings, meh dais, buckle carriers, and woven wraps all work great for older babies- you'll find lots of available options for different carries (front, hip, or back), that can you give added freedom (and fun!). Keep reading for more great ways to get these carriers for a steal!

Toddler Wearing and Beyond
Toddlers are the masters of wanting up and down, up and down, up and down….all of the time. One of the greatest tools to contain my children on our family outings has been babywearing. I even use a carrier regularly for my preschooler and elementary age children! We use a stroller, sure, but it cannot go hiking up a mountain with us like a carrier can!
If you think you'd like to wear your babies beyond babyhood, think about getting a carrier that will grow with your child's weight and size- it'll be a bigger initial investment, but you'll get many more years out of it!
Want to know more about the types of carriers? Enter your email and we'll send you a Baby Carrier Cheat Sheet + a FREE Video series on finding the right carried for YOU (on a budget!) from The Well-Carried Child!
What Type of Carrier do you WANT?
Buy a carrier you WANT to use! This thought process may not initially seem relevant to budget, but hear me out. If you are going to pay money for any product, you have to use it to get your money's worth. So buy a carrier you will have fun using!
There are endless options of patterns and colors available for babywearing on a budget, so you can certainly find something you like. Think of your carrier as your new (likely most-often-used) accessory- and let it match your personality and style- buy a carrier with a pattern that makes you feel happy!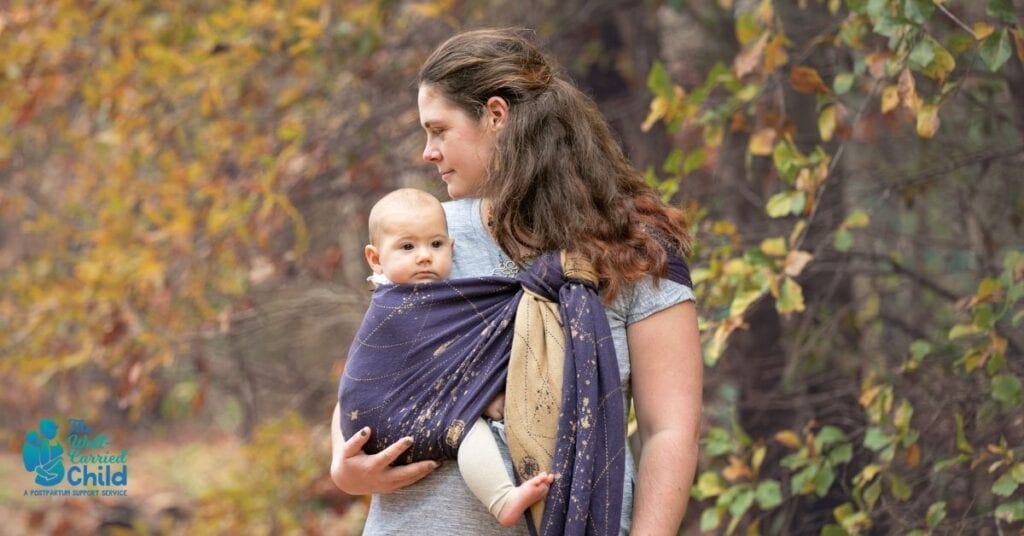 I (Alex) will never forget wearing my second child when she was infant. She was a 'happy spitter'. No matter how much time I waited to put her in the carrier, on my front or my back, she would vomit on me. Every. Time. She always knew when I had showered, and had great aim: right down my shirt or on the back of my neck in my hairline!
But even if I was covered in baby spit, wearing a nursing tank and second day yoga pants, no one noticed those things. They saw a (usually) happy baby, in a beautiful carrier. They would smile at me, ask how old my kids were, and tell me how adorable they were. Sometimes they would comment on my carrier, and we would bond over the journey of parenthood and the power and beauty of babywearing! A fun carrier that makes you feel beautiful is WORTH IT.
To Stay on Budget when Babywearing: Try Before You Buy
So how can you get this beautiful babywearing carrier while still saving money?
When you're looking to babywear on a budget, one of the best money-saving investments you can make is to try out some options before you make your purchase. Check your local area for a Babywearing Educator with a Teaching Library or a nonprofit Lending Library- you can usually "rent" carriers from Lending Libraries (my local group is only $30 for a year's membership, and many have scholarships in place as well!). Search Facebook for your local Babywearing group- or if you're in the Raleigh, NC area, contact The Well-Carried Child and we'd be happy to help with our Teaching Library.

These individuals and groups also usually have meetings you can attend to learn more about the different types of carriers, and a variety of options to try on (and people to help you with knowing all the tricks!). Figuring out a good fit for you and your child will help you to find a comfortable carrier, which will mean you'll wear your baby more and easier and you'll get a lot more for your money!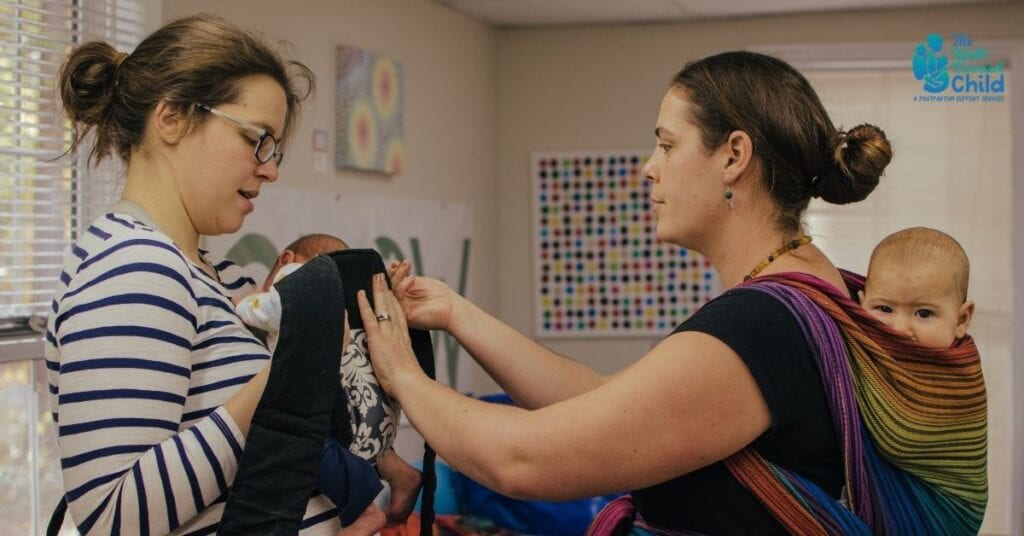 This is also where someone like me (Alex) can come in and assist! As a Certified Babywearing Consultant, I can help you find the perfect carrier for you (and even track down a pre-loved deal for you!) and make sure it fits and that you feel confident in your babywearing skills.
Thanks to the pandemic, virtual services are even more available from many businesses as well- I have helped more people in the past year than ever before due to being able to do appointments virtually! Babywearing is designed to reduce your stress, increase baby's happiness, and give you back time and freedom in your day- I wish all caregivers could have access to this kind of babywearing education!
Naturally, there is a cost to working with a consultant, but with businesses like The Well-Carried Child, the charge is hourly and YOU get to decide how the time is spent so that you get the most for your money- and the investment in getting trained by an expert will also save you time and potential frustration from trying to figure it out yourself.
It's totally doable to figure it out by yourself…but personally I think caregivers (especially if you've got a newborn!) have enough on their plates already, and I love helping make things easier! At The Well-Carried Child, I also have a sliding scale fee to help serve ALL caregivers with their babywearing on a budget!
Babywearing on a Budget: Consider Buying Preloved
Unsurprisingly, pre-loved carriers are often considerably cheaper than new ones- and since babywearing is a limited-time thing (babies don't stay babies forever!), there are plenty of used carriers on the market. Once you've figure out what kind of carrier you want, it's time to go on the hunt!
Where do you find these mythical preloved carriers? Check at your local children's consignment stores, and seasonal consignment sales- especially on discount days! If you have a local Lending Library, they may also have a Buy Sale Trade (BST) thread on their Facebook page. Many brands also have specific BST groups for reselling carriers, too. My favorite budget BST group is Babywearing on a Budget– all the carriers are under $100, including shipping!
Finding the carrier you want on your budget may not be instantaneous, so be patient. The right carrier will come along. And if you need help, ask! Depending on the company or brand, some Certified Babywearing Educators get a discount and can pass that on to their clients. I do this for my clients, and I love the thrill of finding the right carrier at the right price!
Here's a video I've made with a few more things you'll want to know if you are considering buying pre-loved!
It was too much to include all in one post, but if you'd like to see the rest of the videos in this series on how to find your perfect carrier without breaking the bank, put your email in the box at the end of this post and it'll be delivered to your inbox!
Babywearing on a Budget: Selling Your Carrier
It's likely that you'll want a new or different carrier at some point- maybe you don't end up loving the one you got, or you decide you like a different feature better, or your kid grows and you need a different size. And for sure your kids will grow and eventually be too old or big to be worn comfortably. So what then?
Sell it!
You're not the only one out there looking to do babywearing on a budget! All those places where you can find pre-loved carriers are great for selling yours, too! And one of the best parts? Baby carriers generally hold their value really well, so you may even be able to make your money back, or close to it! As long as there are no major defects, you can often sell your carrier for a large percentage of what you bought it for- making the overall cost even less! Babywearing is an investment up front, but done right it can truly come out really cost effective.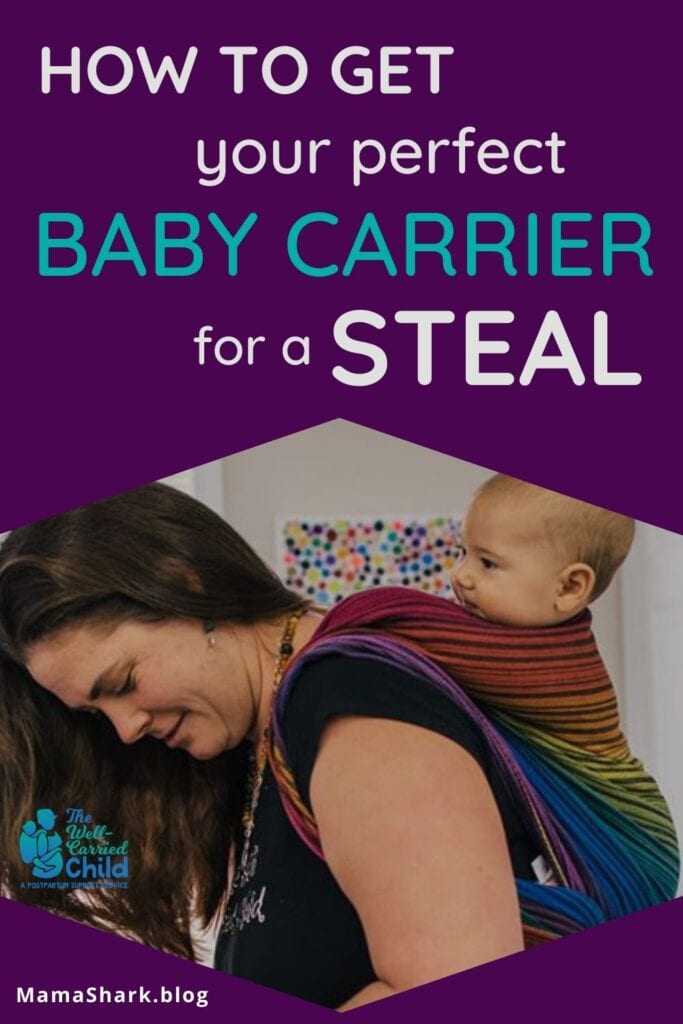 The Next Steps to Babywearing on a Budget
Want to learn more about babywearing on a budget? Enter your email below and we'll send you some more babywearing basics, including a video series specifically about Budget Carriers! We'll send you a cheat sheet on the different types and styles of baby carriers, plus 6 videos on Babywearing on a Budget, including how to find NEW Carriers that cost $50 or less, information on buying pre-loved carriers, and what to do when you're done with your carrier.
If you'd like to learn more about babywearing and get some help finding the perfect carrier, be sure and check out Alex's business, The Well-Carried Child.

Website: http://thewellcarriedchild.com
Facebook: www.facebook.com/thewellcarriedchild
Instagram: @thewellcarriedchild
Email: thewellcarriedchild@gmail.com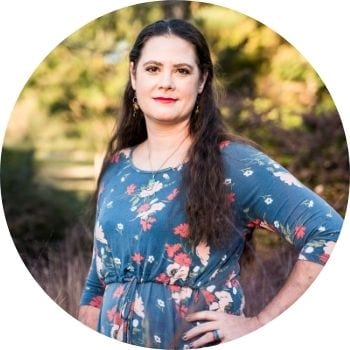 Alex Sparrow is a Certified Babywearing Consultant, Certified Postpartum Doula, Cloth Diaper Educator with The Well Carried Child: A Postpartum Support Service. She and her family, including three young children, live in the Triangle area of NC. Babywearing is a tool that she still uses every day with her children. She loves sharing all of her passions with others, including baking, reading, being outside, and supporting postpartum families.
If you liked learning Babywearing on a Budget, we think you'd also like…
Tell us about the deals you found for babywearing on a budget in the comments below!